The Orthopaedic Assessment of Children with Osteogenesis Imperfecta
Keywords:
Osteogenesis ; Imperfecta
Abstract
Osteogenesis Imperfecta (OI) is an inherited skeletal dysplasia characterized from bone fragility and skeletal deformities. OI presents with heterogenous features and variability in severity. Multiple systems are affected, since the disease involves the synthesis of collagen type I. Diagnosis is mainly based on the incidence of fractures. Severe osteoporosis, repeated fractures and fragility affect the skeleton and severe deformities are the result. Spine deformities are common. Muscle function and mobility is affected. Medical treatments including biphosphonates, denosumab, TGFb inhibitors are reported to increase bone mass, but fractures remain the main consideration of OI. Surgical treatment with the use of intramedullary expanding rods increases bone strength, correct deformities and provide stability for the mobilization of the affected patients. These procedures have a high rate of complications but have significantly improved the quality of life of the affected children.
Downloads
Download data is not yet available.
References
1. Marom R, Rabenhorst BM, Morello R. Osteogenesis imperfecta: an update on clinical features and therapies. Eur J Endocrinol. 2020 Oct;183(4):R95-R106. doi: 10.1530/EJE-20-0299. PMID: 32621590; PMCID: PMC7694877.
2. 2 Palomo T, Vilaça T, Lazaretti-Castro M. Osteogenesis imperfecta: diagnosis and treatment. Curr Opin Endocrinol Diabetes Obes. 2017 Dec;24(6):381-388. doi: 10.1097/MED.0000000000000367. PMID: 28863000.
3. Erlebacher A, Derynck R. Increased expression of TGF-beta 2 in osteoblasts results in an osteoporosis-like phenotype. J Cell Biol. 1996 1;132(1–2):195–210. [PubMed: 8567723]
4. Moosa S, Yamamoto GL, Garbes L, Keupp K, Beleza-Meireles A, Moreno CA, Valadares ER, de Sousa SB, Maia S, Saraiva J et al. Autosomal-Recessive Mutations in MESD Cause Osteogenesis Imperfecta. Am J Hum Genet. 2019 10 3;105(4):836–43. [PubMed: 31564437]
5. Doyard M, Bacrot S, Huber C, Di Rocco M, Goldenberg A, Aglan MS, Brunelle P, Temtamy S, Michot C, Otaify GA et al. FAM46A mutations are responsible for autosomal recessive osteogenesis imperfecta. J Med Genet. 2018 4;55(4):278–84. [PubMed: 29358272]
6. Kotanidou, E. P., Doulgeraki, A., Costantini, A., Makitie, O., Athanasopoulou, H., Laliotis, N., & Galli-Tsinopoulou, A. (2018). A Novel p. Gly775Glu Missense COL1A2 Mutation Causes Severe Osteogenesis Imperfecta in a Prepubertal Girl. ESPE Abstracts, 89.
7. Grafe I, Yang T, Alexander S, et al. Excessive transforming growth factor-β signaling is a common mechanism in osteogenesis imperfecta. Nat Med. 2014;20(6):670–5. [PubMed: 24793237]
8. Lindahl K, Åström E, Rubin CJ, Grigelioniene G, Malmgren B, Ljunggren Ö, Kindmark A. Genetic epidemiology, prevalence, and genotype-phenotype correlations in the Swedish population with osteogenesis imperfecta. Eur J Hum Genet. 2015 Aug;23(8):1042-50. doi: 10.1038/ejhg.2015.81.
9. Sillence DO, Senn A, Danks DM. Genetic heterogeneity in osteogenesis imperfecta. J Med Genet. 1979;16(2):101–16. [PubMed: 458828]
10. Tournis S, Dede AD. Osteogenesis imperfecta - A clinical update. Metabolism. 2018 Mar;80:27-37. doi: 10.1016/j.metabol.2017.06.001. Epub 2017 Jun 8. PMID: 28625337.
11. Deguchi M, Tsuji S, Katsura D, Kasahara K, Kimura F, Murakami T. Current Overview of Osteogenesis Imperfecta. Medicina (Kaunas). 2021 May 10;57(5):464. doi: 10.3390/medicina57050464. PMID: 34068551; PMCID: PMC8151368.
12. Marcal FF, Ribeiro EM, Costa FWG, Fonteles CSR, Teles GS, de Barros Silva PG, Chaves CM, Rodrigues Ribeiro T. Dental alterations on panoramic radiographs of patients with osteogenesis imperfecta in relation to clinical diagnosis, severity, and bisphosphonate regimen aspects: a STROBE-compliant case-control study. Oral Surg Oral Med Oral Pathol Oral Radiol. 2019 Dec;128(6):621–30. [PubMed: 31399368]
13. Reznikov N, Dagdeviren D, Tamimi F, Glorieux F, Rauch F, Retrouvey JM. Cone-Beam Computed Tomography of Osteogenesis Imperfecta Types III and IV: Three-Dimensional Evaluation of Craniofacial Features and Upper Airways. JBMR Plus. 2019 Jun;3(6):e10124. [PubMed: 31346560]
14. Sillence D, Butler B, Latham M, Barlow K. Natural history of blue sclerae in osteogenesis imperfecta. Am J Med Genet. 1993 Jan 15;45(2):183-6.
15. Bellur S, Jain M, Cuthbertson D, Krakow D, Shapiro JR, Steiner RD, Smith PA, Bober MB, Hart T, Krischer J, Mullins M, Byers PH, Pepin M, Durigova M, Glorieux FH, Rauch F, Sutton VR, Lee B; Members of the BBD Consortium, Nagamani SC. Cesarean delivery is not associated with decreased at-birth fracture rates in osteogenesis imperfecta. Genet Med. 2016 Jun;18(6):570-6. doi: 10.1038/gim.2015.131. Epub 2015 Oct 1.PMID: 26426884 Free PMC article
16. Cubert R, Cheng EY, Mack S, Pepin MG, Byers PH. Osteogenesis imperfecta: mode of delivery and neonatal outcome. Obstet Gynecol. 2001 Jan;97(1):66-9. doi: 10.1016/s0029-7844(00)01100-5.PMID: 11152910
17. Hackley L, Merritt L. Osteogenesis imperfecta in the neonate. Adv Neonatal Care. 2008 Feb;8(1):21-30; quiz 31-2. doi:10.1097/01.ANC.0000311013.71510.41.PMID: 18300735 Review
18. Rao R, Cuthbertson D, Nagamani SCS, Sutton VR, Lee BH, Krischer J, Krakow D. Pregnancy in women with osteogenesis imperfecta: pregnancy characteristics, maternal, and neonatal outcomes. Am J Obstet Gynecol MFM. 2021 Jul;3(4):100362. doi: 10.1016/j.ajogmf.2021.100362. Epub 2021 Mar 26.PMID: 33781976
19. Peddada KV, Sullivan BT, Margalit A, Sponseller PD. Fracture Patterns Differ Between Osteogenesis Imperfecta and Routine Pediatric Fractures. J Pediatr Orthop. 2018;38(4):e207–e12. [PubMed: 29356793] SCOLIOSIS
20. Bronheim R, Khan S, Carter E, Sandhaus RA, Raggio C. Scoliosis and Cardiopulmonary Outcomes in Osteogenesis Imperfecta Patients. Spine. 2019 Aug 1;44(15):1057–63. [PubMed: 31335789]
21. Widmann RF, Bitan FD, Laplaza FJ, Burke SW, DiMaio MF, Schneider R. Spinal deformity, pulmonary compromise, and quality of life in osteogenesis imperfecta. Spine. 1999 Aug 15;24(16):1673–8. [PubMed: 10472101]
22. Wallace MJ, Kruse RW, Shah SA. The Spine in Patients With Osteogenesis Imperfecta. The Journal of the American Academy of Orthopaedic Surgeons. 2017 2;25(2):100–9. [PubMed: 28009707]
23. O'Donnell C, Bloch N, Michael N, Erickson M, Garg S. Management of Scoliosis in Children with Osteogenesis Imperfecta. JBJS Rev. 2017 Jul;5(7):e8.
24. Castelein RM, Hasler C, Helenius I, et al. Complex spine deformities in young patients with severe osteogenesis imperfecta: current concepts review. J Child Orthop. 2019;13(1):22–32. [PubMed: 30838072
25. Arponen H, Vuorimies I, Haukka J, Valta H, Waltimo-Sirén J, Mäkitie O. Cranial base pathology in pediatric osteogenesis imperfecta patients treated with bisphosphonates. J Neurosurg Pediatr. 2015 Mar;15(3):313-20. doi: 10.3171/2014.11.
26. Veilleux LN, Trejo P, Rauch F. Muscle abnormalities in osteogenesis imperfecta. J Musculoskelet Neuronal Interact. 2017 Jun 1;17(2):1–7. [PubMed: 28574406]
27. Veilleux LN, Lemay M, Pouliot-Laforte A, Cheung MS, Glorieux FH, Rauch F. Muscle anatomy and dynamic muscle function in osteogenesis imperfecta type I. J Clin Endocrinol Metab. 2014 Feb;99(2):E356-62. doi: 10.1210/jc.2013-3209.
28. Bhaskar AR, Khurana D. Results of Rodding and Impact on Ambulation and Refracture in Osteogenesis Imperfecta: Study of 21 Children. Indian J Orthop. 2019 Jul-Aug;53(4):554-559. doi: 10.4103/ortho.IJOrtho_202_18. PMID: 31303672; PMCID: PMC6590024.
29. Herdea A, Ulici A, Qirjako D, Toma A, Derihaci RP, Lungu CN, Charkaoui A. Evaluating the Functional Outcomes and the Quality of Life for Pediatric Patients with Osteogenesis Imperfecta after Fracture Treatment with Intramedullary Rodding. Children (Basel). 2021 Nov 19;8(11):1066. doi: 10.3390/children8111066. PMID: 34828779; PMCID: PMC8618628.
30. Glorieux FH, Bishop NJ, Plotkin H, et al. Cyclic administration of pamidronate in children with severe osteogenesis imperfecta. N Engl J Med. 1998;339(14):947–52. [PubMed: 9753709
31. Botor M, Fus-Kujawa A, Uroczynska M, Stepien KL, Galicka A, Gawron K, Sieron AL. Osteogenesis Imperfecta: Current and Prospective Therapies. Biomolecules. 2021 Oct 10;11(10):1493. doi: 10.3390/biom11101493. PMID: 34680126; PMCID: PMC8533546.
32. Ruck J, Dahan-Oliel N, Montpetit K, Rauch F, Fassier F. Fassier-Duval femoral rodding in children with osteogenesis imperfecta receiving bisphosphonates: functional outcomes at one year. J Child Orthop. 2011 Jun;5(3):217-24. doi: 10.1007/s11832-011-0341-7. Epub 2011 May 8. PMID: 22654983; PMCID: PMC3100465.
33. Hoyer-Kuhn H, Netzer C, Koerber F, et al. Two years' experience with denosumab for children with osteogenesis imperfecta type VI. Orphanet J Rare Dis. 2014;9:145. [PubMed: 25257953]
34. Li G, Jin Y, Levine MAH, et al. Systematic review of the effect of denosumab on children with osteogenesis imperfecta showed inconsistent findings. Acta Paediatr. 2018;107(3):534–7. [PubMed: 29154388]
35. Rossi V, Lee B, Marom R. Osteogenesis imperfecta: advancements in genetics and treatment. Curr Opin Pediatr. 2019 Dec;31(6):708-715. doi: 10.1097/MOP.0000000000000813. PMID: 31693577; PMCID: PMC7017716.
36. Sagar, R.; Walther-Jallow, L.; David, A.L.; Götherström, C.; Westgren, M. Fetal Mesenchymal Stromal Cells: An Opportunity for Prenatal Cellular Therapy. Curr. Stem Cell Rep. 2018, 4, 61–68
37. Götherström C, David AL, Walther-Jallow L, Åström E, Westgren M. Mesenchymal Stem Cell Therapy for Osteogenesis Imperfecta. Clin Obstet Gynecol. 2021 Dec 1;64(4):898-903. doi: 10.1097/GRF.0000000000000656.PMID: 34510048
38. Hidalgo Perea S, Green DW. Osteogenesis imperfecta: treatment and surgical management. Curr Opin Pediatr. 2021 Feb 1;33(1):74-78. doi: 10.1097/MOP.0000000000000968. PMID: 33278111.
39. Fassier FR. Osteogenesis Imperfecta-Who Needs Rodding Surgery? Curr Osteoporos Rep. 2021 Jun;19(3):264-270. doi: 10.1007/s11914-021-00665-z. Epub 2021 Mar 1. PMID: 33646506.
40. Fassier A. Telescopic rodding in children: Technical progression from Dubow-Bailey to Fassier-Duval™. Orthop Traumatol Surg Res. 2021 Feb;107(1S):102759. doi: 10.1016/j.otsr.2020.102759. Epub 2020 Dec 11. PMID: 33316440.
41. Azzam KA, Rush ET, Burke BR, Nabower AM, Esposito PW. Mid-term Results of Femoral and Tibial Osteotomies and Fassier-Duval Nailing in Children With Osteogenesis Imperfecta. J Pediatr Orthop. 2018 Jul;38(6):331-336. doi: 10.1097/BPO.0000000000000824. PMID: 27379783.
42. Rodriguez Celin M, Kruger KM, Caudill A, Nagamani SCS; Brittle Bone Disorders Consortium (BBDC); Linked Clinical Research Centers (LCRC), Harris GF, Smith PA. A Multicenter Study of Intramedullary Rodding in Osteogenesis Imperfecta. JB JS Open Access. 2020 Sep 11;5(3):e20.00031. doi: 10.2106/JBJS.OA.20.00031. PMID: 32984750; PMCID: PMC7489747.
43. Li WC, Kao HK, Yang WE, Chang CJ, Chang CH. Femoral non-elongating rodding in osteogenesis imperfecta - the importance of purchasing epiphyseal plate. Biomed J. 2015 Mar-Apr;38(2):143-7. doi: 10.4103/2319-4170.137764. PMID: 25179717.
44. Mulpuri K, Joseph B. Intramedullary rodding in osteogenesis imperfecta. J Pediatr Orthop. 2000 Mar-Apr;20(2):267-73. PMID: 10739296.
45. Franzone JM, Bober MB, Rogers KJ, McGreal CM, Kruse RW. Re-alignment and intramedullary rodding of the humerus and forearm in children with osteogenesis imperfecta: revision rate and effect on fracture rate. J Child Orthop. 2017 Jun 1;11(3):185-190. doi: 10.1302/1863-2548.11.160214. PMID: 28828061; PMCID: PMC5548033
46. Ashby E, Montpetit K, Hamdy RC, Fassier F. Functional Outcome of Forearm Rodding in Children With Osteogenesis Imperfecta. J Pediatr Orthop. 2018 Jan;38(1):54-59. doi: 10.1097/BPO.0000000000000724. PMID: 26840274.
47. Cho TJ, Lee K, Oh CW, Park MS, Yoo WJ, Choi IH. Locking plate placement with unicortical screw fixation adjunctive to intramedullary rodding in long bones of patients with osteogenesis imperfecta. J Bone Joint Surg Am. 2015 May 6;97(9):733-7. doi: 10.2106/JBJS.N.01185. PMID: 25948520.
48. Pizones J, Plotkin H, Parra-Garcia JI, Alvarez P, Gutierrez P, Bueno A, Fernandez-Arroyo A. Bone healing in children with osteogenesis imperfecta treated with bisphosphonates. J Pediatr Orthop. 2005 May-Jun;25(3):332–5. [PubMed: 15832149]
49. Anam EA, Rauch F, Glorieux FH, Fassier F, Hamdy R. Osteotomy Healing in Children With Osteogenesis Imperfecta Receiving Bisphosphonate Treatment. J Bone Miner Res. 2015 8;30(8):1362–8. [PubMed: 25708939]
50. Manolopoulos KN, West A, Gittoes N. The paradox of preventionbilateral atypical subtrochanteric fractures due to bisphosphonates in osteogenesis imperfecta. J Clin Endocrinol Metab. 2013 Mar;98(3):871-2
51. Hegazy A, Kenawey M, Sochett E, Tile L, Cheung AM, Howard AW. Unusual Femur Stress Fractures in Children With Osteogenesis Imperfecta and Intramedullary Rods on Long-term Intravenous Pamidronate Therapy. J Pediatr Orthop. 2016; 36:757-61.
52. Musielak BJ, Woźniak Ł, Sułko J, Oberc A, Jóźwiak M. Problems, Complications, and Factors Predisposing to Failure of Fassier-Duval Rodding in Children With Osteogenesis Imperfecta: A Double-center Study. J Pediatr Orthop. 2021 Apr 1;41(4):e347-e352. doi: 10.1097/BPO.0000000000001763. PMID: 33560710.
53. Pichard CP, Robinson RE, Skolasky RL, Fedarko NS, Leet AI. Surgical blood loss during femoral rodding in children with osteogenesis imperfecta. J Child Orthop. 2009 Aug;3(4):301-5. doi: 10.1007/s11832-009-0190-9. Epub 2009 Jul 30. PMID: 19641945; PMCID: PMC2726873.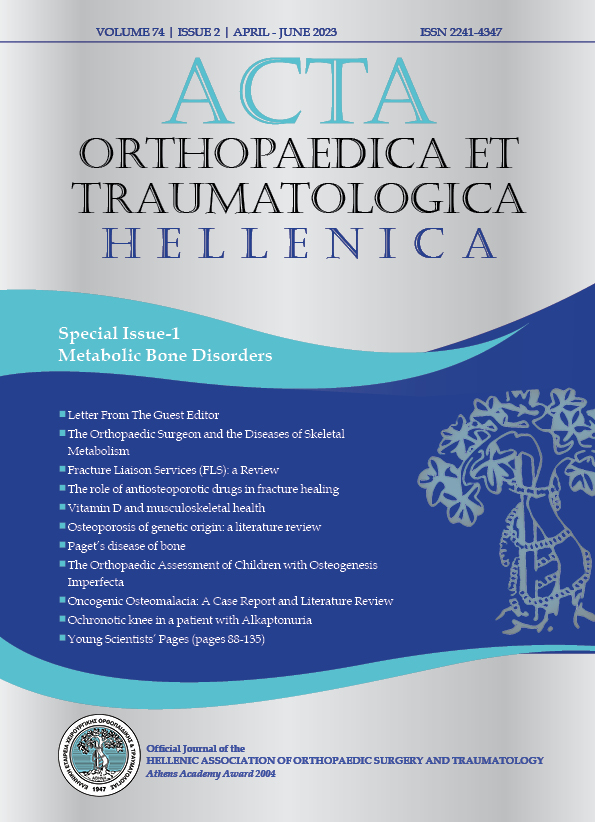 Copyright (c) 2023 Acta Orthopaedica Et Traumatologica Hellenica
This work is licensed under a Creative Commons Attribution-NonCommercial 4.0 International License.