Oncogenic Osteomalacia: A Case Report and Literature Review
A Kapetanou

J Konstandinidis

G. Kapetanos
Keywords:
Tumor induced osteomalacia, hypophosphatemia, hyperphosphaturia, fibroblast growth factor.
Abstract
Oncogenic Osteomalacia or Tumor Induced Osteomalacia (TIO) is a rare paraneoplasmatic syndrome characterized by multiple automatic pathological fractures as well as by severe hypophosphatemia. The etiology is not known, but its pathophysiology is associated with a very small mesenchymal tumor which is related to the Fibroblast Growth Factor 23 (FGF 23). Clinically the patient has numerous automatic fractures of the upper and lower limbs and of the spine, with bone and muscular pains. Hypophosphatemia, phosphaturia and increased alkaline phosphatase are the laboratory findings. Finding the tumor can be a major diagnostic challenge and the radical excision is the treatment of choice. A female patient, 47 years old, senior nurse, healthy in general, revealed a progressive weakness of the lower legs during the last two years, generalized myopathy and pathological fractures in pelvis, hips, humerus, sternum, clavicles, spine, radius and knees, symmetrical in both sides, left and right. Phosphorus and vitamin D were found very low and FGF 23 very high. Scan, CT and MRI were normal. The PET revealed a very small lesion in the base, under the tongue. The tumor was removed and the biopsy confirmed the phosphaturic mesenchymal tumor. Very soon the patient recovered, the fractures were united and today five years postoperatively, she is very well and free of the disease.
Downloads
Download data is not yet available.
References
1. Harvick C, et al. Clinical problem-solving wasting away. N England J Med 2014; 370:959
2. Dadoniene J et al. Tumor induced osteomalacia; a literature review and a case report. World J of Surgical Oncology 2016,14:4
3. Ledford CK et al. The posphaturic mesenchymal tumor. Why a definite diagnosis and curative surgery often delayed? Clinical Orthop. 2013; 471:36183
4. Rendina D et al. Tumor induced osteomalacia. A systematic review and individual patient's data analysis. J. Clin. Endocrinology and metabolism. 2022; 107:3428
5. Florenzano P et al. Tumor induced osteomalacia. Calcif. Tissue International 2021; 108:128
6. Jan de Beur SM. Tumor Induced Osteomalacia JAMA 2005; 294:1260
7. Bosman A et al. Tumor Induced Osteomalacia. A systematic clinical review of 895 cases Calcif. Tissue Intrn.2022;111:367
8. Wang H et al. Surgical treatments of tumor induced osteomalacia lesions in long bones. Seventeen cases with more than one year follow-up. J. Bone Joint Surg. Am. 2015; 97:1084
9. Beygi S, Denio A and Sharma T. The foot that broke both hips. A case report and literature review of tumor induced osteomalacia. Case reports in Rheumatology. 2017; 319:1673
10. Ogose A et al. Recurrent malignant variant of phosphaturic mesenchymal tumor. Skeletal Radiology 2001; 30:99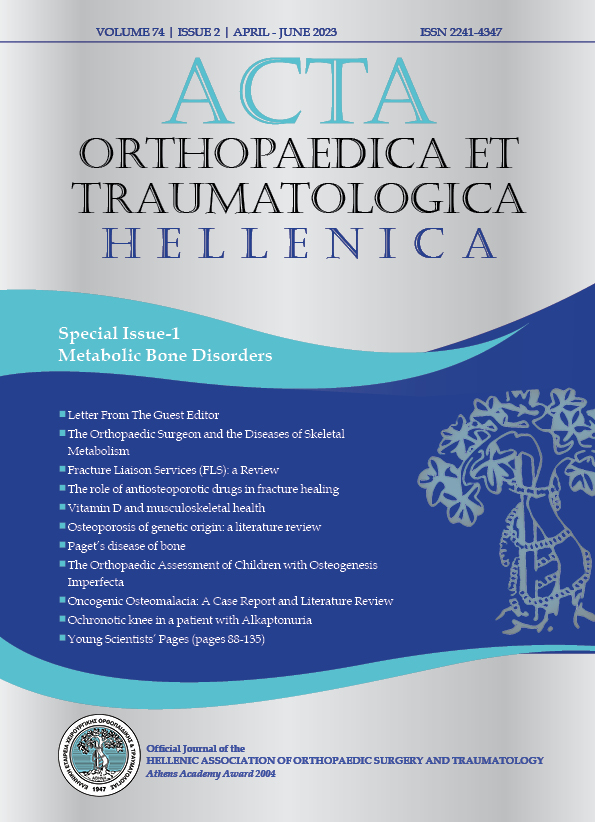 Copyright (c) 2023 Acta Orthopaedica Et Traumatologica Hellenica
This work is licensed under a Creative Commons Attribution-NonCommercial 4.0 International License.