Return to play following spinal cord injury
P Chatzikonstantis

Ioannis S Benetos IS
Keywords:
spinal cord injuries, sport injuries, return to play
Abstract
Approximately 9% of spinal cord injuries (SCI) occur during sports. Decisions concerning return to play (RTP) have to be made for all the injured athletes at all levels of competition.
This study aims to review the existing literature concerning RTP on athletes with SCI regardless of the level of competition and to assess guidelines and protocols concerning RTP after SCI. Through the online PUBMED, CINAHL, EMBASE and AMED databases and following the PRISMA guidelines, studies regarding RTP after SCI were identified.
 In total twelve studies were included. Four studies assessed RTP of athletes after a SCI, whereas, the remaining eight studies dealt with RTP protocols and guidelines.
RTP after a SCI must be individualized based on the mechanism of injury, the anatomical site of injury, the imaging studies, and the athlete's recovery response. Future studies providing evidence on thoracic and lumbar injuries are needed in order to achieve stronger recommendations and protocols for a safer RTP.
Downloads
Download data is not yet available.
References
1. Eckert MJ, Martin MJ. Trauma: Spinal Cord Injury. SurgClinNorthAm. 2017
2. Spinal Cord Injury (SCI) 2016 Facts and Figures at a Glance. J Spinal Cord Med. 2016;39(4):493-4.
3. Torg JS, Guille JT, Jaffe S. Injuries to the cervical spine in American football players. J Bone Joint Surg Am 2002;84-A(1):112–22
4. Poudel M. and Sherman, A. Football (soccer)-related spinal cord injury-reported cases from 1976 to 2020. Spinal Cord Series and Cases 2020;6(1).
5. Cantu R., Li Y, Abdulhamid M. et al. Return to Play After Cervical Spine Injury in Sports. Current Sports Medicine Reports 2013;12(1):14-17.
6. Huang P, Anissipour A, McGee W. et al. Return-to-Play Recommendations After Cervical, Thoracic, and Lumbar Spine Injuries. SportsHealth: A Multidisciplinary Approach, 2015;8(1):19-25.
7. France J, Karsy M., Harrop J. et al. 2016. Return to Play after Cervical Spine Injuries: A Consensus of Opinion. Global Spine Journal, 2016;6(8):792-97.
8. Bettencourt R. and Linder, M. Treatment of Neck Injuries. Primary Care: Clinics in Office Practice,2013;40(2):259-69.
9. Brigham, C. and Capo, J., Cervical Spinal Cord Contusion in Professional Athletes. Spine 2013;38(4):315-23.
10. Vaccaro A., Klein G., Ciccoti M., et al. Return to play criteria for the athlete with cervical spine injuries resulting in stinger and transient quadriplegia/paresis. The Spine Journal, 2002;2(5):351-56.
11. Rihn J., Anderson D, Lamb K, et al. Cervical Spine Injuries in American Football. Sports Medicine, 2009;39(9):697-708.
12. Tator, C.Recognition and Management of Spinal Cord Injuries in Sports and Recreation. NeurologicClinics, 2008;26(1):79-88.
13. Schroeder, G. and Vaccaro, A. Cervical Spine Injuries in the Athlete. Journal of the American Academy of Orthopaedic Surgeons, 2006;24(9):e122-e33.
14. Cantu R. Cervical Spine Injuries in the Athlete. Seminars in Neurology, 2002; 20(02):173-78.
15. Torg J. Corcoran T. Thibault, L. Cervical cord neurapraxia: classification, pathomechanics, morbidity, and management guidelines. Neurosurgical Focus, 1997;3(4):.E1.
16. Maroon J., El-Kadi H., Abla A. Cervical neurapraxia in elite athletes: evaluation and surgical treatment. Journal of Neurosurgery: Spine, 2007;6(4):356-363.
17. Dailey, A., Harrop, J. and France, J. High-Energy Contact Sports and Cervical Spine Neuropraxia Injuries. Spine, 2010;35(Supplement):S193-S201.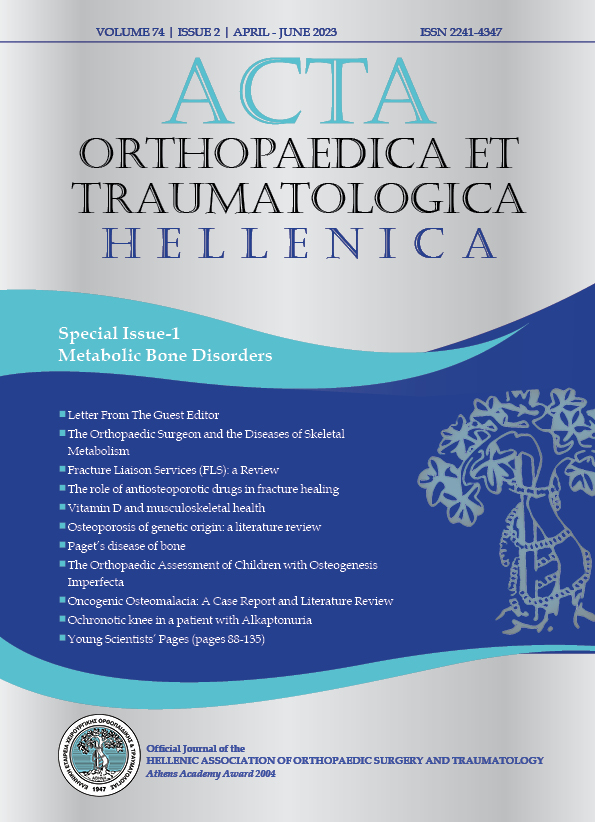 Section
Young Scientists Pages
Copyright (c) 2023 Acta Orthopaedica Et Traumatologica Hellenica
This work is licensed under a Creative Commons Attribution-NonCommercial 4.0 International License.