The effect of acupuncture on the inflammatory response and spasticity following spinal cord injury
I Kouzoupis

IS Benetos

ES Vasiliadis

J Vlamis
Keywords:
Spinal cord injury, Inflammation, Spasticity
Abstract
Spinal cord injury (SCI) is a serious pathological condition, which causes significant morbidity and mortality in patients who are suffering from it. Acupuncture is an important and integral part of traditional Chinese Medicine, which has been practiced in Asian countries for more than 5,200 years. The present narrative literature review aims to present recent research data in relation to the therapeutic effect of acupuncture on patients with SCI, and more specifically on the reduction of the inflammatory response and the spasticity after an injury of the spinal cord.
It seems that acupuncture, through its anti-inflammatory effect, is effective in patients with SCI. This therapeutic effect is multifactorial, including the regulation of the activity of various endogenic biological mediators, the regeneration of nerve fibres and stem cells and the inhibition of inflammation, neural apoptosis and oxidative stress in the injured spinal cord.
Since there is evidence that inflammation plays an important role in the spasticity seen in patients with SCI, there is necessity for future research, both at the experimental and also at the clinical level, in order to test the hypothesis of a close correlation between the anti-inflammatory effect of acupuncture and the successful treatment of spasticity in patients with SCI.
Downloads
Download data is not yet available.
References
1. Furlan JC, Sakakibara BM, Miller WC et al. Global incidence and prevalence of traumatic spinal cord injury. Can J Neurol Sci. 2013;40(4):456–64.
2. Masri R, Keller A. Chronic pain following spinal cord injury. AdvExp Med Biol. 2012;760:74–88.
3. Ahuja CS, Wilson JR, Nori S et al. Traumatic spinal cord injury. Nature reviews Disease primers. 2017;3(1):1-21.
4. Anjum A, Yazid MD, Daud MF et al. Spinal cord injury: pathophysiology, multimolecular interactions, and underlying recovery mechanisms. Inter J Mol Sci 2020;21(20):7533.
5. Alizadeh A, Dyck SM, Karimi-Abdolrezaee S. Traumatic spinal cord injury: an overview of pathophysiology, models and acute injury mechanisms. Frontiers in neurology. 2019;10:282.
6. Tran AP, Warren PM, Silver J. The Biology of Regeneration Failure and Success After Spinal Cord Injury. Physiol Rev. 2018;98(2):881–917.
7. Couillard-Despres S, Bieler L, Vogl M. Pathophysiology of traumatic spinal cord injury. Neurological aspects of spinal cord injury. 2017;503-28.
8. Ren Y, Young W. Managing inflammation after spinal cord injury through manipulation of macrophage function. Neural Plast. 2013;2013:945034.
9. Hellenbrand DJ, Quinn CM, Piper ZJ et al. Inflammation after spinal cord injury: a review of the critical timeline of signaling cues and cellular infiltration. J Neuroinflammation. 2021;18(1):284.
10. DiSabato DJ, Quan N, Godbout JP. Neuroinflammation: the devil is in the details. J Neurochem. 2016;139 Suppl 2(Suppl 2):136–53.
11. Tibbett J, Widerström-Noga EG, Thomas CK et al. Impact of spasticity on transfers and activities of daily living in individuals with spinal cord injury. J Spinal Cord Med. 2019;42(3):318–27.
12. Rekand T, Hagen EM, Grønning M. Spasticity following spinal cord injury. TidsskrNorLaegeforen. 2012;132(8):970–3.
13. Stevenson VL. Rehabilitation in practice: Spasticity management. Clin Rehabil. 2010;24(4):293–304.
14. Elbasiouny SM, Moroz D, Bakr MM et al. Management of spasticity after spinal cord injury: current techniques and future directions. Neurorehabil Neural Repair. 2010;24(1):23–33.
15. Billington ZJ, Henke AM, Gater DR. Spasticity Management after Spinal Cord Injury: The Here and Now. J Pers Med. 2022;12(5):808.
16. Patejdl R, Zettl UK. Spasticity in multiple sclerosis: Contribution of inflammation, autoimmune mediated neuronal damage and therapeutic interventions. Autoimmun Rev. 2017;16(9):925–36.
17. Krishnan C, Kaplin AI,Deshpande DM et al. Transverse myelitis: pathogenesis, diagnosis and treatment. Front Biosci. 2004;9(1483):99.
18. Shoeibi A, Mojtabavi S, Boostani R et al. Acupuncture in the treatment of HTLV-I-associated myelopathy / tropical spastic Paraparesis. J Neurovirol. 2020;26(3):415-21.
19. Vidensky S, Zhang Y, Hand T et al. Neuronal overexpression of COX-2 results in dominant production of PGE2 and altered fever response. Neuromolecular Med. 2003;3(1):15-28.
20. Mandolesi G, Gentile A, Mussella A et al. IL-1β dependent cerebellar synaptopathy in a mouse mode of multiple sclerosis. Cerebellum. 2015;14(1):19-22.
21. Ma SH, Zhuang QX,Shen WX et al. Interleukin-6 reduces NMDAR-mediated cytosolic Ca2+ overload and neuronal death via JAK/CaNsignaling. Cell Calcium. 2015 Sep;58(3):286-95.
22. Olmos G, Lladó J. Tumor necrosis factor alpha: a link between neuroinflammation and excitotoxicity. Mediators Inflamm. 2014;2014:861231.
23. Vezzani A, Viviani B. Neuromodulatory properties of inflammatory cytokines and their impact on neuronal excitability. Neuropharmacology. 2015;96(Pt A):70-82.
24. Jishun J, Mittelman M. Acupuncture: past, present, and future. Global Advances in Health and Medicine. 2014;3(4):6–8.
25. Li W, Chen S. Acupuncture for thalamic pain after stroke: A systematic review and meta-analysis. Medicine (Baltimore). 2023;102(9):e33006.
26. Zhang Z, Hu T, Huang P et al. The efficacy and safety of acupuncture therapy for sciatica: A systematic review and meta-analysis of randomized controlled trails. Front Neurosci. 2023;17:1097830.
27. Li P, Zhang Y, Li F et al. The Efficacy of Electroacupuncture in the Treatment of Knee Osteoarthritis: A Systematic Review and Meta-Analysis. AdvBiol (Weinh). 2023 Feb 20;e2200304.
28. Cui Y, Zhou X, Li Q et al. Efficacy of different acupuncture therapies on postherpetic neuralgia: A Bayesian network meta-analysis. Front Neurosci. 2022;16:1056102.
29. Lee JJ, Heo JW, Choi TY et al. Acupuncture for the treatment of overactive bladder: A systematic review and meta-analysis. Front Neurol. 2022;13:985288.
30. Anderson BJ, Jurawanichkul S, Kligler BE et al. Interdisciplinary Relationship Models for Complementary and Integrative Health: Perspectives of Chinese Medicine Practitioners in the United States. J Altern Complement Med. 2019;25(3):288–95.
31. Van Hal M, Dydyk AM, Green MS. Acupuncture. In: StatPearls [Internet]. Treasure Island (FL): StatPearls Publishing; 2022 [cited 2023 Mar 11]. Available from: http://www.ncbi.nlm.nih.gov/books/NBK532287/
32. Zhao J. Interpretation of acupuncture theory from acupuncture application. Zhongguo Zhen jiu= Chinese Acupuncture &Moxibustion. 2017;37(10):1115–8.
33. Fan Q, Cavus O, Xiong L et al. Spinal Cord Injury: How Could Acupuncture Help? J Acupunct Meridian Stud. 2018;11(4):124-32.
34. Liu Z, Wang W, Wu J et al. Electroacupuncture improves bladder and bowel function in patients with traumatic spinal cord injury: results from a prospective observational study. Evid Based Complement Alternat Med. 2013;2013:543174.
35. Yue J, Zhang Q, Sun Z et al. A case of electroacupuncture therapy for pressure ulcer. Acupunct Med. 2013 Dec;31(4):450-1.
36. Zhang SJ, Si T, Li Z. [Clinical observation on nanometeracupoint mounting method for alleviation of myospasm complicated by spinal injury]. Zhongguo Zhen Jiu. 2008;28(11):849–51.
37. Dong Jg, Qiu Y. Integrative medicine efficacy of rehabilitation therapy on patients with spinal cord injury spasm relief. China J Mod Med. 2012;23:023.
38. Cai W, Shen WD. Anti-Apoptotic Mechanisms of Acupuncture in Neurological Diseases: A Review. Am J Chin Med. 2018;46(3):515-35.
39. Du M, Chen R, Quan R et al. A brief analysis of traditional chinese medical elongated needle therapy on acute spinal cord injury and its mechanism. Evid Based Complement Alternat Med. 2013;2013:828754.
40. Shi Y, Quan R, Li C et al. The study of traditional Chinese medical elongated-needle therapy promoting neurological recovery mechanism after spinal cord injury in rats. J Ethnopharmacol. 2016 Jul 1;187:28-41.
41. Chen RL, Quan RF, Xu SCet al. [Effect of elongated-needle penetration intervention on spinal apoptosis and cell signal transduction in acute spinal cord injury rabbits]. Zhen Ci Yan Jiu. 2014;39(4):259-66.
42. Tang H, Guo Y, Zhao Y et al. Effects and Mechanisms of Acupuncture Combined with Mesenchymal Stem Cell Transplantation on Neural Recovery after Spinal Cord Injury: Progress and Prospects. Neural Plast. 2020;2020:8890655.
43. Choi DC, Lee JY, Moon YJ et al. Acupuncture-mediated inhibition of inflammation facilitates significant functional recovery after spinal cord injury. Neurobiol Dis. 2010;39(3):272-82.
44. Lee JY, Choi DC, Oh TH et al. Analgesic effect of acupuncture is mediated via inhibition of JNK activation in astrocytes after spinal cord injury. PLoS One. 2013;8(9):e73948.
45. Renfu Q, Rongliang C, Mengxuan D et al. Anti-apoptotic signal transduction mechanism of electroacupuncture in acute spinal cord injury. Acupunct Med. 2014;32(6):463-71.
46. Nascimento de Souza R, Silva FK, Alves de Medeiros M. Bee Venom Acupuncture Reduces Interleukin-6, Increases Interleukin-10, and Induces Locomotor Recovery in a Model of Spinal Cord Compression. J Acupunct Meridian Stud. 2017;10(3):204-10.
47. Wiginton JG, Brazdzionis J, Mohrdar C et al. Spinal Cord Reperfusion Injury: Case Report, Review of the Literature, and Future Treatment Strategies. Cureus.2019;11(7):e5279.
48. Fang B, Qin M, Li Y et al. Electroacupuncture preconditioning and postconditioning inhibit apoptosis and neuroinflammation induced by spinal cord ischemia reperfusion injury through enhancing autophagy in rats. NeurosciLett. 2017;642:136-41.
49. On-Ong-Arj P, Wattanathorn J, Muchimapura S et al. Yellow Laser Stimulation at GV2 Acupoint Mitigates Apoptosis, Oxidative Stress, Inflammation, and Motor Deficit in Spinal Cord Injury Rats. Evid Based Complement Alternat Med. 2018;2018:5407052.
50. Li L, Wang S, Zhou W. Balance Cell Apoptosis and Pyroptosis of Caspase-3-Activating Chemotherapy for Better Antitumor Therapy. Cancers (Basel). 2022;15(1):26.
51. Dai N, Tang C, Liu H et al. Effect of electroacupuncture on inhibition of inflammatory response and oxidative stress through activating ApoE and Nrf2 in a mouse model of spinal cord injury. Brain Behav. 2021;11(9):e2328.
52. Jiang SH, Tu WZ, Zou EM et al. Neuroprotective effects of different modalities of acupuncture on traumatic spinal cord injury in rats. Evid Based Complement Alternat Med. 2014;2014:431580.
53. Huang S, Tang C, Sun S et al. Protective Effect of Electroacupuncture on Neural Myelin Sheaths is Mediated via Promotion of Oligodendrocyte Proliferation and Inhibition of Oligodendrocyte Death After Compressed Spinal Cord Injury. MolNeurobiol. 2015;52(3):1870–81.
54. Zhou Z, Li H, Li H et al. Comprehensive analysis of the differential expression profile of microRNAs in rats with spinal cord injury treated by electroacupuncture. Mol Med Rep. 2020;22(2):751-62.
55. Yang JH, Lv JG, Wang H et al. Electroacupuncture promotes the recovery of motor neuron function in the anterior horn of the injured spinal cord. Neural Regen Res. 2015;10(12):2033-9.
56. Yan Q, Ruan JW, Ding Y et al. Electro-acupuncture promotes differentiation of mesenchymal stem cells, regeneration of nerve fibers and partial functional recovery after spinal cord injury. Exp Toxicol Pathol 2011;63(1-2):151-6.
57. DingY, YanQ, Zhang WQ et al. Electro-acupuncture promotes survival, differentiation of the bone marrow mesenchymal stem cells as well as functional recovery in the spinal cord-transected rats. BMC Neurosci. 2009;10:35.
58. Liu J, Wu Y. Electro-acupuncture-modulated miR-214 prevents neuronal apoptosis by targeting Bax and inhibits sodium channel Nav1.3 expression in rats after spinal cord injury. Biomed Pharmacother. 2017;89:1125-35.
59. Li WJ, Pan SQ, Zeng YS et al. Identification of acupuncture-specific proteins in the process of electro-acupuncture after spinal cord injury. Neurosci Res. 2010;67(4):307-16.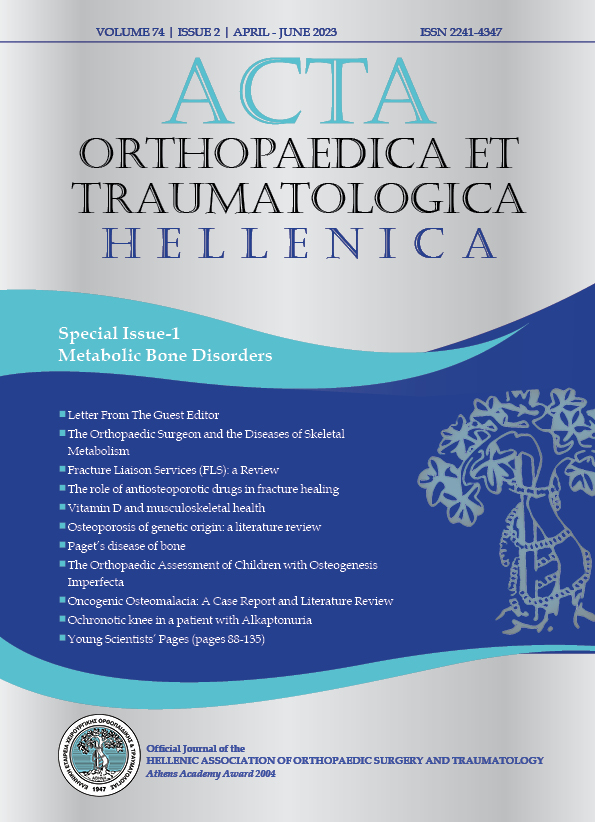 Section
Young Scientists Pages
Copyright (c) 2023 Acta Orthopaedica Et Traumatologica Hellenica
This work is licensed under a Creative Commons Attribution-NonCommercial 4.0 International License.